Outfit ideas
And more outfit ideas will follow,…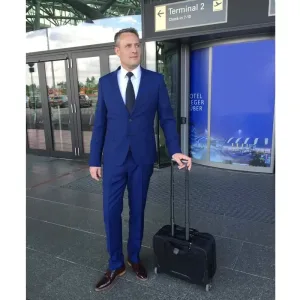 Stylish companion
"High-quality leather shoes are no coincidence, they were deliberately chosen by me." At least that's the opinion of the business man in this picture. He is currently on business. So he needs individual men's shoes that simply suit him and the business. Because he is waiting for the driver of the customer company at the airport. For this moment he bought exclusive shoes online shortly before his business trip. You never know who you'll meet at the airport or whether you're about to go to a meeting.
Incidentally, these individual men's shoes fit perfectly with a dark tie, as the wearer shows in the picture. It also doesn't matter whether it's a blue, light or dark suit. Such exclusive shoes online match any suit. But also dark or blue jeans with a casual jacket can be worn, which match perfectly with the shoes.
Oxford gentleman
This Oxford shoe belongs to the category of classic men's shoes. Especially, this classic concerns the noble elegance that appears by the closed lacing. You will immediately feel a perfect fit on your foot when you put them on and use them. You may only notice the satisfaction unconsciously, but you will be able to see it. You will also discover that this business shoe is very adaptable thanks to the beautiful material – soft suede.
As shown here, men's Oxford shoes match very well with dark suits and a dark coat.
You will notice that the shoes are of high quality just by wearing them for a long time. Best materials were used. The model is characterized by its robust workmanship. Both attributes together make the high quality. It is now up to you when you will wear them.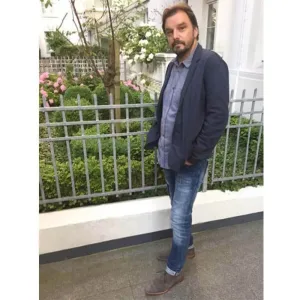 Business casual ankle boots
"Well, do you like the men's ankle boots from the Business Casual category?" the wearer in the picture seems to be asking you directly. Your eyes will automatically stop down and take a closer look at the men's ankle boots made of real suede leather, which you may have unconsciously noticed.
He definitely likes them! He bought them from Shoes4Gentlemen's Best Shoes Shop because they match him and his outfits.
Today he still has to go to a casual meeting and has therefore selected the men's business casual ankle boots. They also match perfectly with his dark blue jacket and he can start comfortably.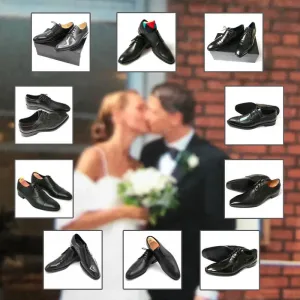 Men`s wedding shoes
Everything has to be right on your big day. Wedding rings, hairstyle, outfit and very important: men`s wedding shoes. Surely you not only want to look good in front of the altar or the registry office, but also make an elegant appearance at the subsequent festivities. Even as a guest at a wedding or a gala evening, a man needs the right shoes. Here is an exclusive selection of men's shoes that are particularly suitable for festivities. If you like it more classically subtle, take a closer look at these models:
111-Elegant and Simple, 301-Style Statement, 302-Oxford Pro, 303-Oxford Plus, 304-Everyday Favorite, 318-First Choice, 319-Men's Oxford
Do you want groom shoes for a special appearance? Then patent leather shoes or polished men's shoes are certainly a great alternative: 211-Noble evening shoe, 212-Masculine classic, 213-Professional all-rounder, 306-Business class, 311-Elegant and masculine, 312-Stately elegance, 316-Classic men's shoes are the right choice.
Brown groom shoes
If things are a little more casual, cognac-colored and brown wedding shoes are often chosen. Just take a closer look at the range. No matter which pair of shoes you choose, thanks to the high quality and exclusive look, you can be sure of appreciative looks and comfort. Maybe even dance the night away?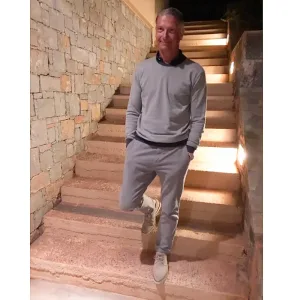 Budapester beige
Budapester beige, as shown here with gray fabric pants, are often worn in leisure time, as the beige suede and the light-coloured sole provide a certain sportiness to the shoe.
It's also great that the shoes can be worn without socks, which makes them ideal for wearing in the warm season. But the wearer also looks serious and relaxed with a gray or blue suit.
Casual business men's shoes that are allrounder for business and leisure time, suitable for almost every occasion without appearing too elegant.
Casual elegant
Casual elegant meets the look of this casual suede men's shoe and is excellent both for working days and for long dance, cinema or theater events.
Perfect shoe for confirmation or prom. This young man, who looked for a long time for a matching pair of confirmation shoes, decided for these business casual shoes. The chic lace-up shoes matches perfectly with the blue confirmation suit. The nice thing about it: even afterwards can he wear the casual lace-ups, for example with jeans.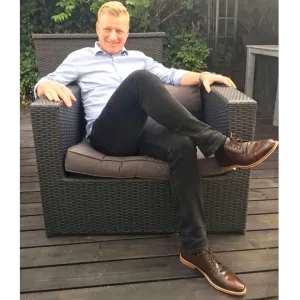 Comfortable trendsetter
This noble brown lace-up shoe can be perfectly combined with almost any suit. Perfect for a confident appearance in everyday office life, at business meetings or at customer appointments. Also easy to combine with smart business casual outfits. Whether with chino pants or even in jeans.