Jetzt für Ihren 1. Kauf 15 € Gutschein sichern!
Einfach anmelden.
Nicht kombinierbar mit anderen Gutscheinen. Ihr Gutschein-Code wird Ihnen nach Ihrer Anmeldung zugesandt. Viel Spaß beim Einlösen.
EXCLUSIVE BUSINESS SHOES
Emphasize your individual style with Shoes 4 Gentlemen's > Men`s Business Shoes – The Upgrade for your shoe cabinet - Business Class! Men's business shoes are often underestimated, but are so important: they can change the entire outfit and they are noticed by everyone. Especially in everyday business, the first impression counts. With a well-groomed business shoe you show good taste as well as a perfect look for every occasion.
STYLE BEGINS WITH SHOES
If your shoes look good, they will provide even a neutral suit exclusivity. Also the opposite is true. An unattractive or dull business shoe can ruin the look of any high quality suit. We have been businessmen for over 20 years and wear business shoes ourselves. We think there are too little individual and attractive business shoes available for gentlemen. Either the selection is boring or the price is out of proportion. That will be different now. Discover beautiful shoe models in different styles (classic, casual or individual) and colours from brown, blue and bordeaux to classic black.
ITALIAN STYLE
The range includes an exclusive selection of business shoes with italian Design in limited numbers. Our focus is individual Design which means individuality and representative look, but of course, also on a pleasant wearing comfort. That is why we test each model personally - the comfort must not be neglected. Finally you have to feel comfortable in your shoes all day long in order to appear powerful and strong.
STAY ON TOP
> Gentlemen`s Business (All) gives a quick overview. You can see immediately which trendy business shoes meet your personal preference. Or choose directly to a category. The range includes timeless classic business shoes > BUSINESS CLASSIC, as well as business shoes for the casual business look > BUSINESS CASUAL and also a stylish selection of individual models > BUSINESS INDIVIDUAL . Just choose your preferred style of business shoes that suits you best.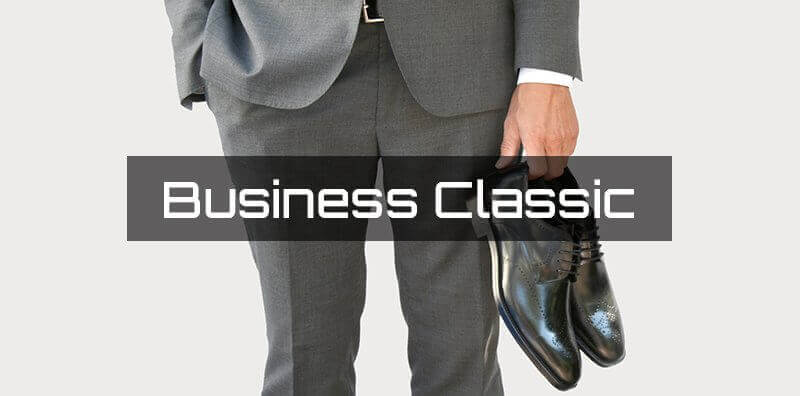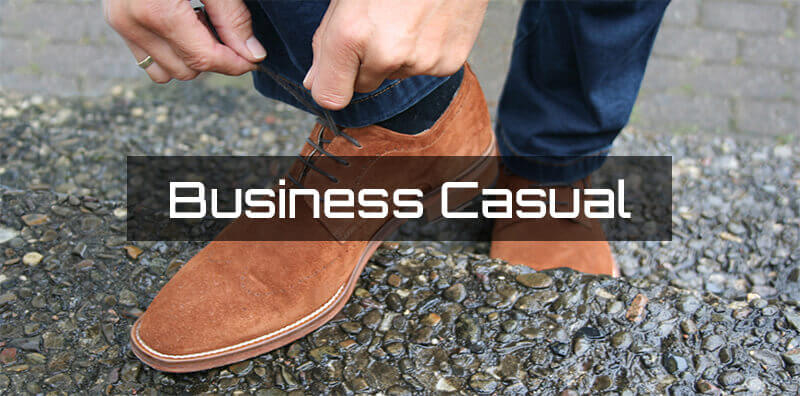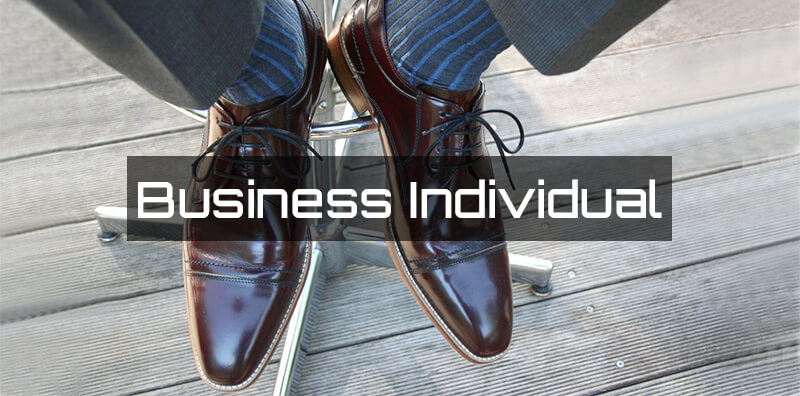 ALWAYS WELL DRESSED
Do you want to present yourself as professional, stylish and competent? If so, your personality and appearance should be positively underlined by your business shoes. You will find a lot of individuality in this collection – no matter if you are looking for men's business shoes in traditional colours like black, brown or cognac. Or you want more special models/colours like Bordeaux for example. You will also find elegant shoes for men in polished leather or with black varnish. In other words: business shoes that fit many occasions. Perfect for the job, in the office, at a business meeting or trade show, but also after work when you go out. Draw attention to your business outfit with timeless, fashionable shoe models for your professional life. Perfect for a positive overall impression.
MODEL DIVERSITY: OXFORD, DERBY, MONK
Complete your business outfit with style and elegance. The
Oxford
models
> 302
,
> 303
,
> 318
,
> 319
,
> 326
or
> 371
are timelessly elegant and give the men's shoe with the typical Oxford lacing a noble look. The classic cut can be easily combined with any business suit and is therefore very versatile. Always on trend are our
Derby
lace-up shoes. Whether simply with a fine seam on the cap toe or in Italian design with subtle embellishment or a slight vintage shading - the beautiful look of the Allrounder guarantees a stylish appearance. Is comfort the top priority for you? Then your first choice should fall on our beautiful
Monk
model
> 305
. Easy to put on thanks to the flexible double buckle and pleasant walking pleasure thanks to the soft footbed guaranteed. Also insole users will be well served. The model
> 303
has a
removable footbed
. You can easily insert your individual insole, allowing you to walk not only healthy but also chic. Do you have very small or very large feet? No problem. Due to the constant assortment expansion we also offer now
size 40
(
> 304
,
> 306
). And those who are on the big foot (size 46, 47, 48) can choose from several beautiful shoe models:
> 325
and
> 329
.
FEEL THE QUALITY
Step by step, our high-quality men's shoes are created by skilled hands and many individual parts. Offering the wearer a high comfort level. These designer shoes for men are manufactured and produced in limited numbers by traditional
manufacturers in Italy and Portugal
. Material: Our business shoes are made of
natural materials
. The upper and inner lining is
100% genuine leather
or combined with canvas for
perfect air circulation
. Furthermore all business shoes with leather sole create an optimal climate for your feet. If the shoes are regularly maintained, you will have reliable companions for a long time.
WELTED SHOES
The largest part of our selection are welted shoes. With this traditional method, the upper (shaft) is stiched to the sole and frame. Either manually or by machine. Today, the manual way has become very rare and almost all welted shoes are stiched by machine. With welted shoes you can replace the sole.
SOLID APPEARANCE
Do you often have to stand for many hours? On fairs or shows? A thick leather sole compensates a hard ground very well. Our comfortable business shoes for men are equipped with strong soles For example our shoes with article numbers starting with 3 (3xx) have leather soles up to 10 mm thickness. This offers you more comfort. For a comfortable walk, many models are also equipped with a soft, cushioned footbed.
RELAXED SHOPPING
You probably have very little time for shopping. We offer you efficient and time saving > shopping (24/7). Find your favourite pair of shoes and forget about annoying parking situations or inconvenient opening hours. You can shop anytime you like from anywhere in the world – no wasted time.
MAXIMIZE CASH VALUE
You do not want to spend 300, - € for your new shoes? If you go to a store you will hardly find a nice pair of high quality leather shoes in exclusive design for less than 180,- €. We change that. Our pricing is very attractive considering the careful production and the high quality material. You pay only for what you actually want. Your new exclusive business shoes in high quality and exclusive design.
---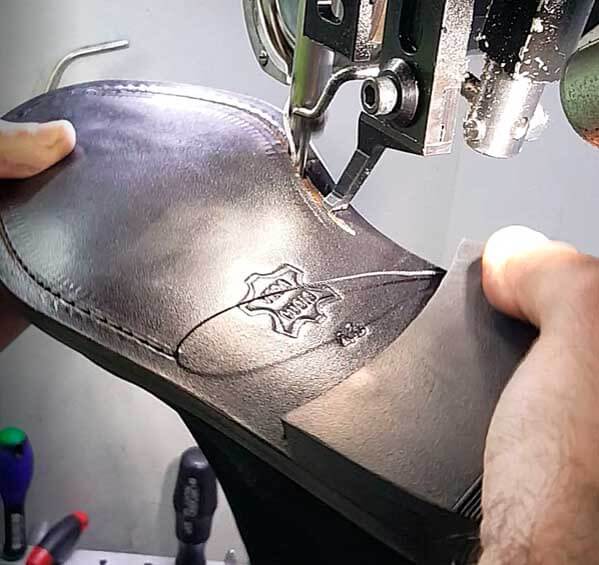 Von Club-Vorteilen profitieren
Sie haben die erste Wahl bei neuen Modellen und können bei neuen Designs mit entscheiden. Zu Ihrem Geschmack passen ganz sicher einige Modelle unserer Business Herrenschuhe. Sollten Sie eigene Design-Ideen haben, oder einen Lieblingsschuh (z.B. braune Anzugschuhe oder Business Schuhe Herren in Schwarz oder in einer anderen Farbe), den Sie nicht mehr auftreiben können, dann werden Sie Clubmitglied und schreiben Sie uns oder schicken Sie uns ein Foto. Wir bringen Kundenwünsche zusammen und fragen Sie nach Ihrer Meinung. So können Sie an neuen Kollektionen mitwirken und am Schluss z.B. ein exklusiv designtes Paar Lederschuhe für Herren nach Ihrem persönlichen Geschmack in Händen halten oder besser an den Füßen tragen!   Ein weiteres Plus: Mit Club-Vorteilen Geld sparen. Wenn es Ihnen bei uns gefällt, empfehlen Sie uns an Ihr Netzwerk und Ihre Kollegen weiter – das wird sich für Sie lohnen. Alles über Ihre > Club-Vorteile.
LADIES BUSINESS SHOES
LADIES SHOES FOR THE EVERYDAY BUSINESS AND AFTER WORK
Whether in the office or leisure time - Shoes4Gentlemen's - LADIES BUSINESS SHOES - fulfill any dress code and make you look stylish.
You are looking for a comfortable pair of shoe's for exhibitions or events where you have to stand for a long time? It could be an elegant pump that rounds off your business outfit or a chic Chelsea ankle boot that is suitable for office and business?
SMALL BUT FINE SELECTION OF SHOE MODELS
Due to the high demand Shoes4Gentlemen has now ventured on the design of ladies business shoes. From pumps to ballerina shoes to ankle boots, we have tried to cover the shoe diversity of ladies business shoes with a few elegant models, because in the daily business next to the competence, the visual impression is of course important too. Finally the ladies in business not only want to look good, but also appear stylish and serious.
PUMPS, BALLERINAS, HALF SHOES, SLIPPERS & BOOTS
Our chic > black leather pumps correspond well with classic office outfits such as a business dress or blouse, blazer and trousers. But of course, the feminine > patent leather pumps in iridescent blue also look great with a well-groomed pair of jeans.
For those who prefer a bit more comfort or who spend most of their professional lifes standing, should look at the > elegant ladies-shoes in black with a medium-high heel or try the > dark blue ballerinas with subtle heel. The cushioned foot bed makes each of these shoes to a pleasure for the feet and conjures a chic, confident look. For example, with a ladies suit or ankle-high trousers.
When it gets colder,> business ankle boots are the ideal choice. Not only do our > Chelsea boots look chic, they also go well with chinos, plain jeans and you can wear them in almost any season. A real eye-catcher is our > lace-up ankle boot in elegant dark blue. The leather mix of polished and suede leather make the ankle boot to a charming companion. Style and comfort combined.
The plain > ladies lace-up shoes can be perfectly combined with a trouser suit and our > ladies brogues our casual shoes are due to the full leather interior a combination of best shoe climate and elegant design in brogue style. The > ladies Oxford shoe has season all year long and is particularly office-friendly.
to assure the comfort in everyday life, the > stylish loafer are the right choice. These slippers look also great with jeans. Just slip in
and go!
Must Haves that all women should have.